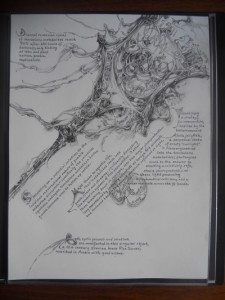 Speculating on a potential solution to the insidious resurrectional nature of zombie endocrine disruptors–specifically the pervasive synthetic androgen, trenbolone acetate, a bovine growth hormone used to fatten up cattle.
In this invention, an original graphite drawing by Julie Rauer, Co-Founder of ART SCIENCE COMPLEX, both cyclic process and solution are manifested in this singular object, a 12th century Iranian brass Rice Server, inscribed in Arabic with good wishes.
Visualizing a strategy for intervention, inspired by the bioluminescent Atolla jellyfish, a perpetual state of ersatz "sunlight" is Nanoengineered into the trenbolone metabolites; photocytes could be the answer to creating a relatively safe, stable photoproduct–as these light producing mitochondrial cells may add a water molecule across the n-bonds.
Copyright c April 20, 2014 by Julie Rauer